@ SABIA:  We improve quality and process control through elemental PGNAA analysis in the cement, coal, power, mining and metal & plastics recycling industries.
we build great cross-belt analyzers
Quality and Process through AI/ML
We Use Smart, Cutting-Edge Technology
PGNAA bulk-material
analyzers
SABIA PGNAA analyzers are used extensively in the cement industry for limestone stockpile building and blending and rawmix control; for coal mining, quality control for barge and train loadouts, stockpile building and blending and quality control for power generation; for mineral ore beneficiation and other processing for nickel, phosphate, gold, iron, tin and other minerals.
Cross-Belt: X1-LiNX
SABIA, Incorporated's compact, highly successful X1-LiNX Prompt Gamma Neutron Activation Analysis (PGNAA) Analyzer provides real-time elemental analyses of a moving stream of raw material on a conveyor belt. Designed to be installed directly onto the conveyor …
On-Pipe Slurry: X1-XP
SABIA's patented X1-XP Slurry Prompt Gamma Neutron Activation Analysis (PGNAA) Analyzer represents a major advance in how slurries are analyzed. SABIA's X1-XP's unique clamshell design fits pipe sizes from 6 to 24 inches (152 to 610 mm) diameter, offering flexibility …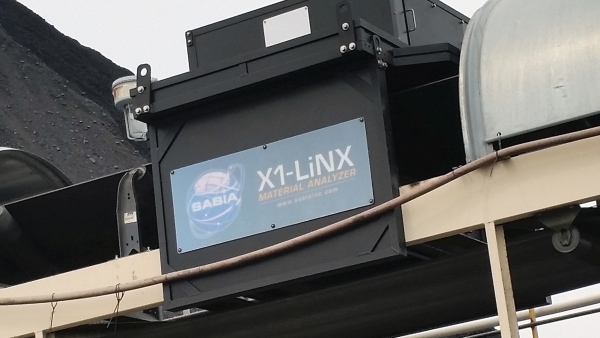 Sample: X1-L
SABIA's X1-L Prompt Gamma Neutron Activation Analysis (PGNAA) Sample Analyzer uses the same high-performance gamma-ray detectors and electronics as our On-Belt X1-LiNX and On-Pipe X1-XP analyzers. A typical 1-gallon (3.8 l) sample can be analyzed …
Upgrades/Retrofits
SABIA offers retrofit kits for aging On-Line PGNAA Analyzers including CBX, CBGN, CBA, ECA, 1812, 3612 and ASYS units, providing users with all the benefits of SABIA's advanced hardware and software for a fraction of the price of a new PGNAA Analyzer. …
Process Control
Software Solutions
SABIA's Software Packages provide the data you need, when you need it, by using state-of-the-art platforms that provide flexibility and easy customization.
SOROS 2.0 – STOCKPILE MANAGER
SABIA Inc.'s SOROS 2.0 and the X1-LiNX On-Belt Analyzer provide an ideal solution for better stockpile building to a target composition. The software supports increasingly more sophisticated levels of control, ranging …
RHEA 2.0 Raw Mix & Mill Optimization
Sabia introduces RHEA 2.0, the next generation of Raw Mix and Mill Optimization Software. The only full featured control system for optimizing your raw mix management. Following are the key packages included in the Raw Mix and Mill Optimization Software
System Integration
SABIA analyzers integrate analysis data seamlessly with the existing PLC or DCS onsite. This allows our customers to not only access analysis data via SABIA's software interfaces, but also via existing customer control systems. Integration of analysis data allows for quicker process control decisions
SABIA offers a range of services designed to ensure SABIA's Analyzers provide maximum availability, value, and ease of ownership in a secure and safe environment.
CF-252 Neutron Sources
SABIA is a Premier Service Provider of Californium-252. 252Cf is used in many makes and models of PGNA analyzers
RSO Training
Radiation Safety Officer Training & License Application Assistance, This practical hands-on course ensures compliance with NRC
Service Contracts
SABIA Inc. offers comprehensive Service Contracts designed to ensure the Analyzer meets operational, performance
SABIA's Software Packages Provide the Data You Need, When You Need It
Trusted By INDUSTRY EXPERTS.
Sage provides unprecedented access to great data being used to create new plant control algorithms. Sage can also use these tools to monitor IoT equipped hardware to control maintenance intervals and warn of potential failures. These are huge strides and can transform the plant performance. Still, this is just the beginning of Sage.